With the growth of Gulen schools worldwide. We had requests from around the world to start a second blog on the Gulen Turkish Schools worldwide. From Mexico to Iraq, and Africa to Afghanistan we will post the news stories and as usual amuse you at the same time. To contrast and compare we invite you to http://www.gulencharterschoolsUSA.blogspot.com http://www.charterschoolwatchdog.com http://www.charterschoolscandals.blogspot.com
Monday, December 26, 2016
Saturday, December 10, 2016
Benin to shut down FETÖ-linked schools
DAILY SABAH WITH ANADOLU AGENCY
Published
December 6, 2016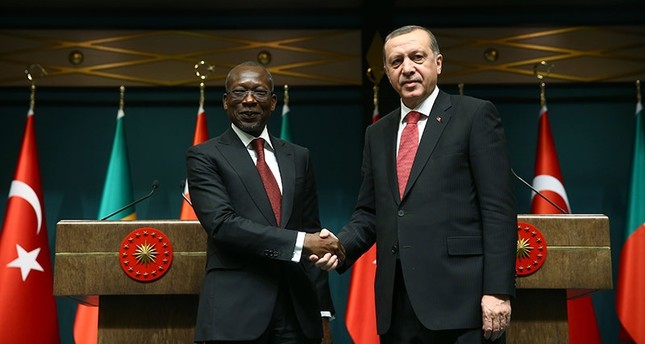 Turkish President Erdoğan meets Benin PresidentPatrice Talon in the Presidential Complex in Ankara on Dec. 6, 2016. (AA Photo)
President Recep Tayyip Erdoğan announced in a press conference held in Ankara on Tuesday that Turkey and Benin have agreed on shutting down three schools linked with the Gülenist Terror Group (FETÖ) operating in the West African country.
The decision was made during Erdoğan's meeting with his Beninese counterpart Patrice Talon who was paying an official visit to Ankara.
Over the past weeks, similar arrangements against FETÖ-linked schools have also been made by other African countries including Sudan, Somalia, and Guinea.
Turkey signed a protocol Nov. 18 with Chad for the transfer of all FETÖ-linked schools there to Turkey's Maarif Foundation.
FETÖ is the terror group behind the failed July 15 coup attempt in Turkey and a string of crimes including two previous attempts to overthrow democratically-elected governments, money laundering, sham trials and imprisonment of its foes thanks to its infiltrators within the police and judiciary systems.
FETÖ runs a global network of schools from Africa to Central Asia, where it recruits more followers into the group.
During the conference, Erdoğan also said that Turkey gives a lot of importance to its relations with Africa, noting that approximately 4,500 African students from 54 different are currently studying in Turkey.
The President added that five different agreements had been signed between Turkey and Benin.
"All [African] countries matter to Turkey, thus, I think, our ties with Africa should be strengthened much more in order to keep this friendship and solidarity together," Erdoğan said.
Both parties also talked about the Turkish embassy in Benin. Erdoğan said that Talon reminded that the embassy building is currently rented, and suggested to reserve a new building site in a better location. Answering positively to the suggestion of Talon, Erdoğan said that the process could be accelerated with the cooperation of both sides.
Talon said Benin has a lot to learn from Turkey which he said is "a rising power."
On a possible visit to Benin by Erdoğan, Talon said: "It will be a very good news for the whole south of Saharan [countries] and it will indicate the cooperation. Maybe many African countries will feel jealous. Because we, as all African countries, admire Turkey."
Turkey, currently having 39 missions across the African continent, aims at having 54 diplomatic missions in 54 African nations to set up stronger ties with the continent.
Gulen's inner circle
Is that Bekiry Aksoy's home? He is second to Gulen FETÖ SİLAHLI TERÖR ÖRGÜTÜ ABD YAPILANMASI 1. Feto 2. Bekir Aksoy 3. Cevdet Türkyolu 4. Osman Şimşek 5. Sezai Sablak 6. Kemal Çetin Özgür
İMMETZADELER
@HimmetZadeler
Aug 25 View translation
@HimmetZadeler
7. Salih Dinçer 8. Erkan Acar 9. Burhan Gülen 10. Sait Önal 11. Kadir Bulut 12. Hüseyin Çopur 13. İzzet Akyar 1 reply 6 retweets 7 likes
Previously wrote on the trouble at Senegal Gulen school in May 2011
Trouble at Senegal School
http://aa.com.tr/en/africa/turkish-foundation-takes-over-feto-schools-in-senegal/701027
Turkish foundation takes over FETO schools in Senegal
Over 80 organizations linked to the terrorist group worldwide have been shut down or transferred to Turkish government:
Six schools in Senegal linked to the Fetullah Terrorist Organization (FETO) have been taken over by a Turkish education foundation, an official told Anadolu Agency on Wednesday.
Hasan Yavuz, the vice president of Turkey's Maarif (Education) Foundation, said his organization has signed a memorandum of understanding with the Senegalese government to transfer all FETO-linked schools in the West African state to the nongovernmental organization.
He added that last week his organization had a meeting with Senegalese President Macky Sall and Foreign Minister Mankeur Ndiaye.
"Our goal is to prevent friends and brother countries from being hurt like us," Yavuz said.
He added that the aim of this is not just to take over schools but to promote Senegal's economic and social future. "We are working to eradicate this organization everywhere," he said.
In recent weeks Guinea, Chad, and Sudan have signed agreements to transfer FETO schools to the Maarif Foundation. Somalia was the first country to suspend the FETO-linked schools in Africa on July 16, just one day after the bloody defeated coup in Turkey blamed on the terrorist group.
So far, over 80 FETO organizations operating abroad, including schools and training centers, have been shut down or transferred to the Turkish government.
FETO and its leader Fetullah Gulen are accused by the Turkish government of being behind the coup attempt and a long-running campaign to overthrow the state through the infiltration of Turkish institutions, particularly the military, police, and judiciary, forming what is commonly known as the "parallel state."
The July 15 defeated coup had left 248 people martyred and 2,193 injured.